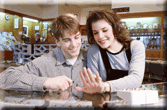 Do you have jewelry that needs fixing? Is your grandmother's antique necklace in need of repair? Does a special ring need a new setting? We can fix it for you. We'll make it as good as new, or even better. We specialize in the repair, care and restoration of fine jewelry. We know how much your beloved pieces of jewelry mean to you. They mean that much to us as well. Our reputation speaks for itself. You can trust us to care about every piece of jewelry, no matter how big or small, as if it were priceless.

We are also a full-service jewelry store offering a wide selection of rings, pendants, necklaces and bracelets. Look through our online catalog to see our beautiful collection. We also offer custom jewelry design. We can set and remount diamonds, jewels and gemstones into the setting of your choice. We love to work with our customers in designing a new look for your precious jewels.


Call us and talk to our customer service representatives. No job is too hard or too complicated. We can fix or restore anything. Let us know what you need and we'll offer the best and most economical solution. Our customer service representatives can also tell you how to clean and care for your jewelry. We're happy to give advice and tips on keeping your jewelry as beautiful as the day you got it.